Azerbaijan, Georgia, Turkey Inaugurate New Oil Pipeline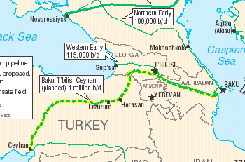 A new Baku-Tbilisi-Ceyhan pipeline will pump Azeri oil starting on May 25, according to
civil.ge
. The presidents of Azerbaijan, Georgia, and Turkey will all attend opening day ceremonies.
The BP-led and U.S.-backed BTC pipeline will carry Azeri oil to the Turkish port of Ceyhan, and eventually to western markets, via Georgia.

The pipeline will stretch 1,767 kilometers (443 km through Azerbaijan, 248 km through Georgia and 1,076 km through Turkey) and have a capacity of 800 thousand barrels of oil per day.
More on this from the
BBC
.
Update 5/25: Just noticed all the Metafilter folks coming in, so I have to admit I swiped the map from this Caspian Sea page at the US EIA. Unfortunately, they no longer are showing the map image for whatever reason.